News 2020
>
>
>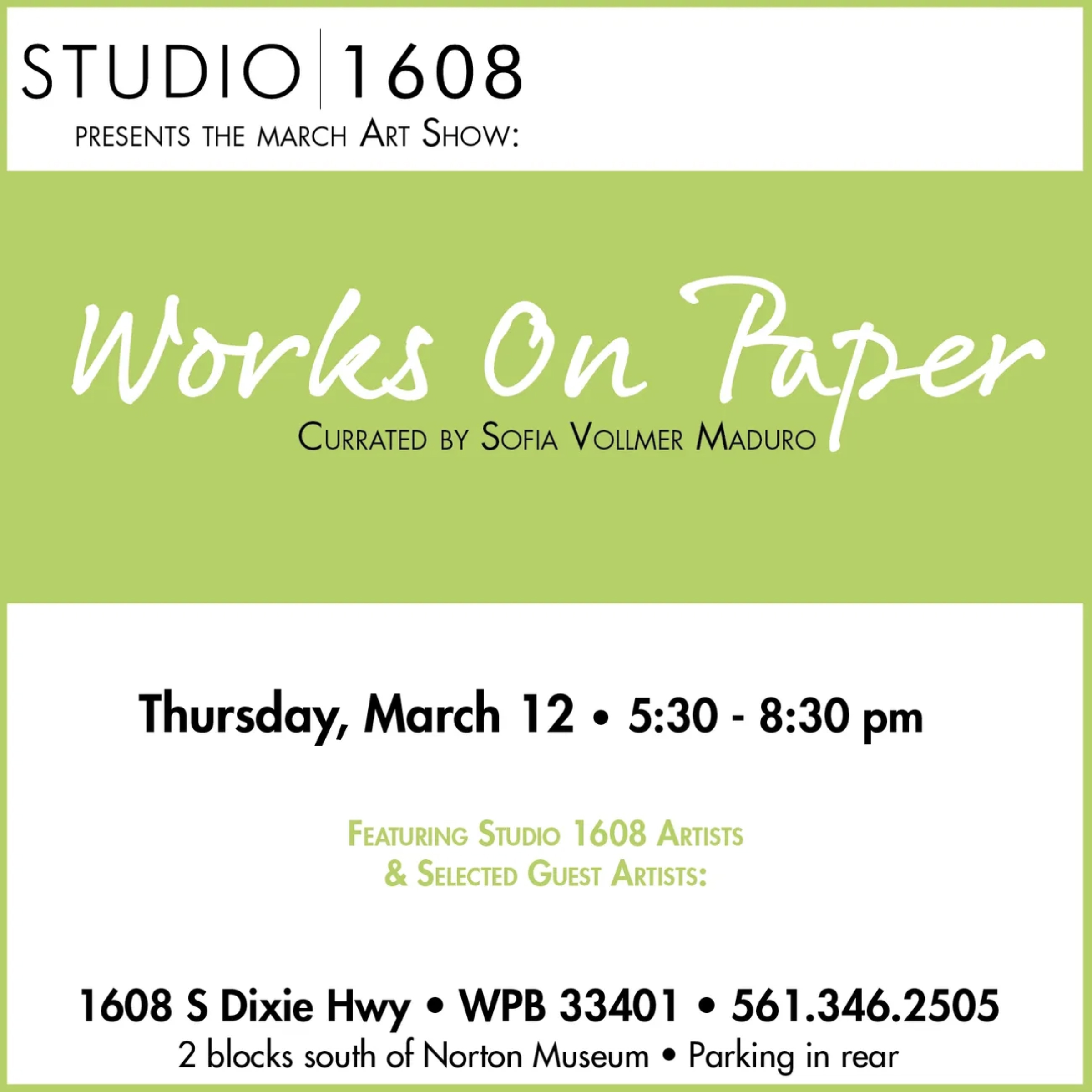 Works on Paper
Curated by Sofia Vollmer Maduro
Opening March 12, 2020 5:30pm - 8:30pm
Closing April 4, 2020
Studio 1608
West Palm Beach, Florida
"Works on Paper" is an art show exploring art on paper, highlighting differences in technique, style, and presentation. In addition to our wonderfully talented Resident Studio Artists, we have selected guest artists to show their incredible works on paper as well.
Sofia Vollmer Maduro is an internationally recognized art and photography expert and lecturer, who currently serves as Director of Education at the Society of the Four Arts in Palm Beach.
Artists: Bruce Helander, Adam Dolle, Maureen Fulgenzi, Camilla Webster, Clemente, Stephen Johnson, Ellen Liman, Mary Ourisman, Ezra Hubbard, Weatherly Stroh, Cloe Gibson, Charles Bane III, StrosbergMandel, Pamela Acheson Myers, Ann Friedlander, Paul Gervais, Jacqueline Benyes, Nuné Asatryan, Elle Schorr, Annette Colon, Jason Mena, Cara Arlette, Giulia Mangoni, Dan Leahy, Alexander Shundi, Alyssa Shuey, Erica Elliott, Sammi McLean, Leora Armstrong, Ingrid Schindall, Nita Miller, Fransisco Prettell.
https://studio1608.com/
>
>
>
>
>
>
>
>
>
>
>
>
>
>
>
>
>
>
>
>